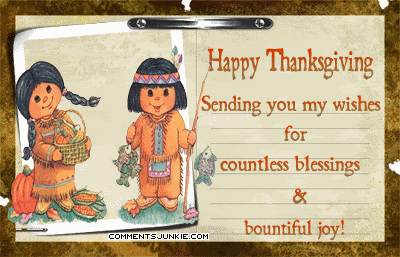 Good morning fellow bloggers, how is your week going on so far? As for me nothing excited happened, and we I had a little fight with my dear but good thing we had it fix immediately.
Anyway i thanks God for all the blessing I received this year. To all my avid visitors i wish you all a happy thanks giving. May you have a wonderful day ahead. Before I end this post I would like to share a little info about thanks giving.
Thanksgiving Day is a harvest festival. Traditionally, it is a time to give thanks for the harvest and express gratitude in general. It is primarily a North American holiday which has generally become a national secular holiday with religious origins.

The dates and whereabouts of the first Thanksgiving celebration are a topic of modest contention. Though the earliest attested Thanksgiving celebration was on September 8, 1565 in what is now Saint Augustine, Florida[1][2], the traditional "first Thanksgiving" is venerated as having occurred at the site of Plymouth Plantation, in 1621.

Today, Thanksgiving is celebrated on the second Monday of October in Canada and on the fourth Thursday of November in the United States. Thanksgiving dinner is held on this day, usually as a gathering of family members.